Pool Liner Quick Quote
Simple – Fast – Accurate
Replacing your inground pool liner usually starts with a quote. Pool Fits Quick Quote is the best on-line quote tool on the web, bar none. We've focused on what matters, simplified the process, eliminated needless entries so that we can deliver you an accurate quote 'Right Now'!
Quick Quote – 2 Step Process
Step 1 – Select from Drop Down Menu

Pool Shape
Pool Size
Bead Type
Wall Height
Vinyl Over Step Size – If Applicable

Step 2 – Fill In

Your Name
Your E-mail Address
Click Submit
---
It really is that fast and that simple, taking less than 2 minutes to generate an accurate quote for your Custom Liner. Better than that, if you need assistance during any part of the Quick Quote process – Call our Toll Free # or Chat with us on-line, "We're Here to Help"!   
Best of all, within a matter of moments, a Pool Fits Quick Quote is emailed directly to you. It looks like this: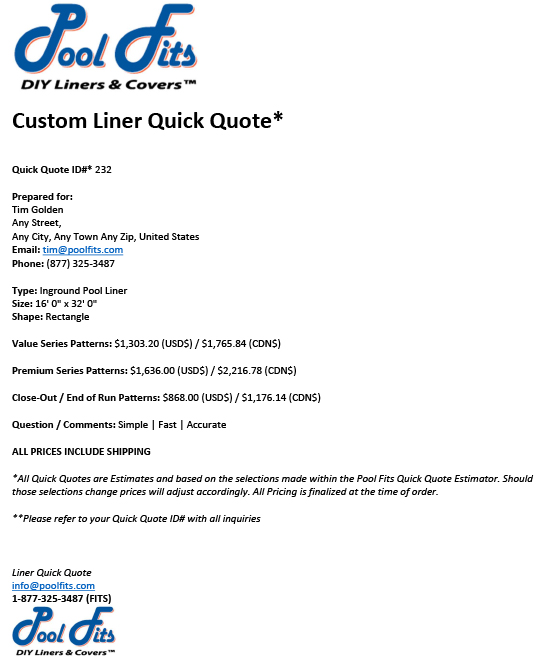 Come to Pool Fits, browse our nearly 75 patterns and generate a Quick Quote for your Inground Pool Liner. Learn why your inground replacement pool liner project can 'Proceed with Confidence' when you 'Partner with Pool Fits'!