Inground Vinyl Liner Swimming Pool Corners
No different from the various corners within the rooms of your home or office, pool corners are the way straight wall and symmetrical pools change direction. Like many products within the vinyl pool industry, pool corners have developed over time to meet a variety of needs, design criteria or marketing requirements.  In some cases, specific specialty corners have become synonymous with a specific brand.  In other cases, certain types of corners have been created to meet multiple design methods, vinyl pool wall manufacturing techniques and capabilities and most importantly to achieve a better fit of the vinyl pool liner where it is changing direction.
What is important for the best fit is to be able to accurately identify the type and size of corner required for your vinyl liner replacement.
Inground Vinyl Pool Liner Corner Types
Pool Corners typically break down into two broad categories:
Within those two broad categories, pool corners break down into some smaller subsets that make it easier to identify the pool corner type required for your replacement vinyl pool liner project:
Corners

Square
Cut-Off
Radius
Specialty*
Reverse Corners

Square
Cut-Off
Radius
Specialty*
*Note: Specialty Corners are usually specific to a specific brand of inground vinyl liner swimming pool or to meet a specific design need of a specific shape or size of pool. Specialty Corners are not very common and in many cases are more prevalent in certain geographic markets.
At the inception of the inground vinyl liner pool market, in the late 1950's, when pools walls were primarily constructed of wood and the vinyl liners were attached to the top of the pool wall in an 'overlap' style or method, where the vinyl pool liner wall was taller than the pool wall itself and the excess material overlapped the top of the pool wall. Typically, the excess or overlap material was stapled to the top of the wooden pool wall before a decorative aluminum coping was 'snapped' onto the top of the pool wall for decorative purposes. Virtually every pool was a rectangle and every pool liner had square corners. Vinyl pool liner design and manufacturing were in their infancy and liners didn't fit very well in the square corners of the pool, but that was an issue that was masked by the excess material common to an overlap liner.
Fast forward to the mid to late 1960's and the advent of liner bead, a small extrusion sealed to the top perimeter of the vinyl liner wall that attaches to the bead receiver within the pools coping.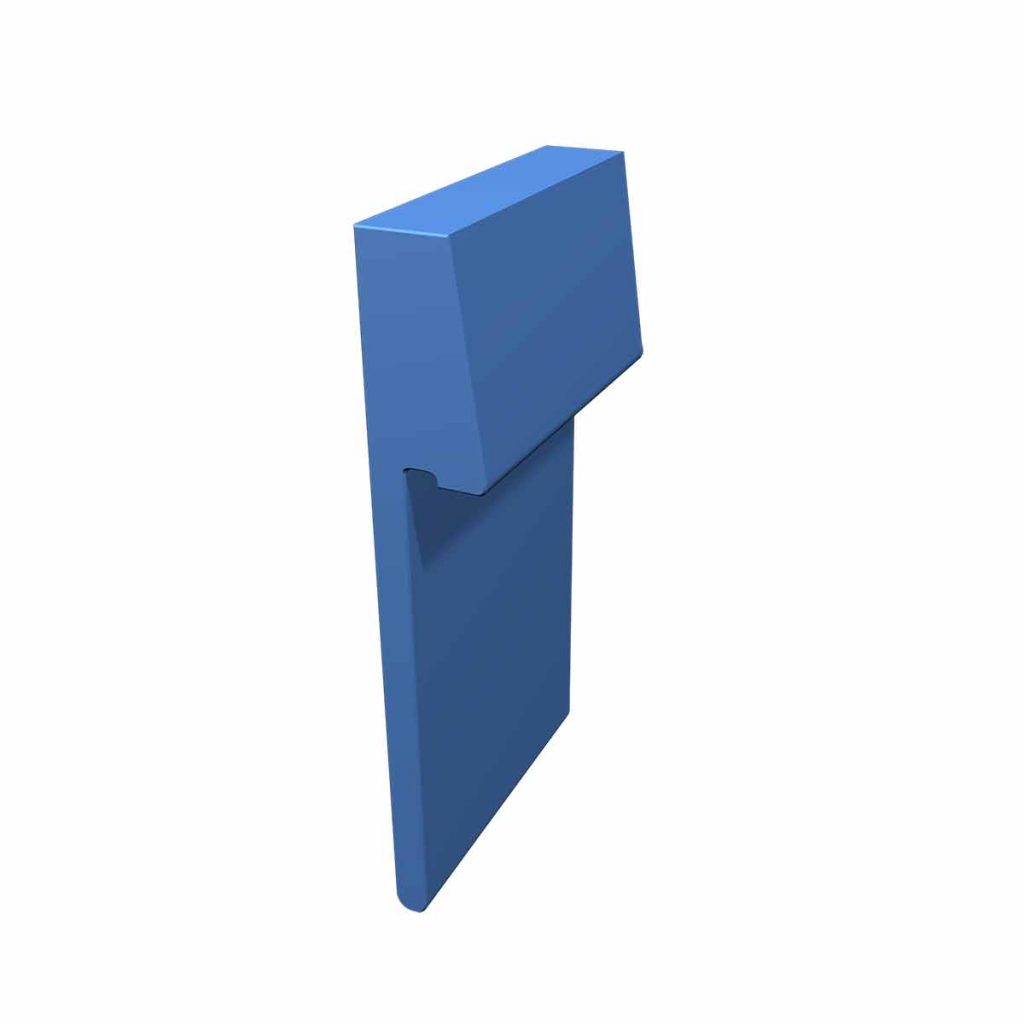 Figure 3 – Inground Liner Standard Bead
The innovation of liner bead was a major improvement to the manufacturing and fit of vinyl liners, however the innovation highlighted the poor fit of liners in pools with square corners, so the race was on to develop different types, shapes and sizes of pool corners to provide for a better fitting vinyl pool liner and there were several:
Then in the 1980's came the marketing push where pool manufacturing companies developed pool corners that both solved for better fitting vinyl liners and provided better a looking corner to market their vinyl liner pool brand to consumers, and there were many, here are a few:
Long story short, there are many different types of inground pool corners for vinyl liner pools and you are going to have to identify which types are on your pool. The good news is that Pool Fits has developed great tools that make it easy to identify both the type and size of your pool corners with a complete library fully dimensioned corners in three images (Top-Front-Iso) for each type and size: